7
07
2014
It could be the end of the line for one of Bangkok's most fantastical attractions. After reaching the English language blogosphere about a year ago, the bizarre fish pond in the ruins of the New World Department store hit critical mass online last week. In a short time, its image popped up on several major blogs and my Facebook news feed. The appeal of the site – a ruined department store, now flooded and teaming with tropical fish, swimming endlessly in circles in the dark past dripping escalators and old cosmetics counters – is deeply intuitive, a kind of dystopian Atlantis.
It even inspired one online artist to produce the piece above.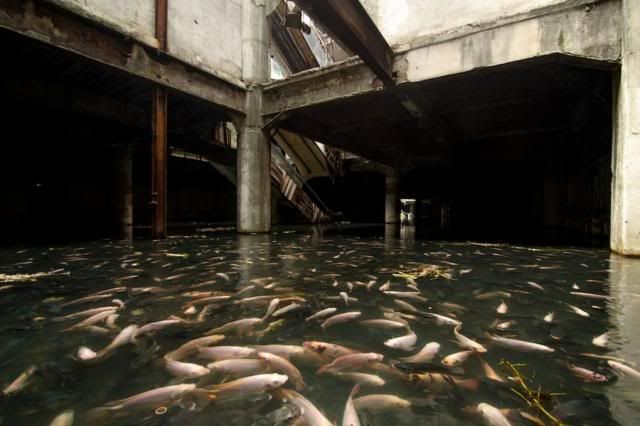 The fish had originally been introduced to the flooded basement of the department store to control mosquitos breeding in the dark, stagnant pool but without predators, they multiplied rapidly. But now with the spotlight suddenly shining brightly on its murky waters, the pond faces a new threat. Thai authorities have stepped up the barricade around the hulk of the New World building and announced that it could be demolished – finally, after a decade in ruin – within thirty days.
Report from my own not-very-successful expedition to see the fish here.
Comments :
Leave a Comment »
Tags:
bangkok
,
fish
,
new world department store
,
strange places
,
thai
Categories :
Uncategorized